Upon graduating college I took a forced hiatus from beer die. The reason? I lived in a city where nobody could afford a yard (a critical component of beer die). On the weekends many would hangout at parks in a college-like atmosphere but none were playing beer die. I realized the solution was a portable beer die table that could fit in the trunk of a car and be checked on airplanes. I spent 2 1/2 years refining the design before it was dialed. Now it's almost ready. In the coming months I'll be traveling to visit my manufacturing partner in China to review the products before they ship to the U.S. It's been a long road to get to this point and I figured I'd take a moment and reflect on how I got here.
In the summer of 2017 I took up welding classes and not long after made my first table prototype. Turns out making a table out of steel makes it quite heavy. It wasn't long after that I moved on to my next design, utilizing leg components from a folding plastic table and connecting them to a wooden table top. The folding plastic table was only 6' long, trying to make it work for an 8' long table wasn't happening. Not quite sure where to go next with the design I decided to split the table up into components, first the table top, then the legs, then the bag. Instead of making the table top 4 pieces like my original design, I decided to separate it into thirds and make it fold up onto itself. After finding the right hinges I realized I was onto something and moved onto designing the legs. I needed something that was lightweight but sturdy and came up with the idea to use tent poles as the supports. It took me a bit to figure out the right configuration and then I stumbled onto the below design. It stood up but obviously wasn't flat like it should be.
I worked through a series of aluminum slides inlayed in the bottom of the table to keep it flat but they would have broken after the first game of beer die. Back to the drawing board with the legs. Looking for inspiration I searched through the camping section on Alibaba and found what I thought was the perfect solution, both lightweight and portable. After negotiating with the manufacturer, I have them customize 10 samples to my desired dimension and received them a month later. We were in business.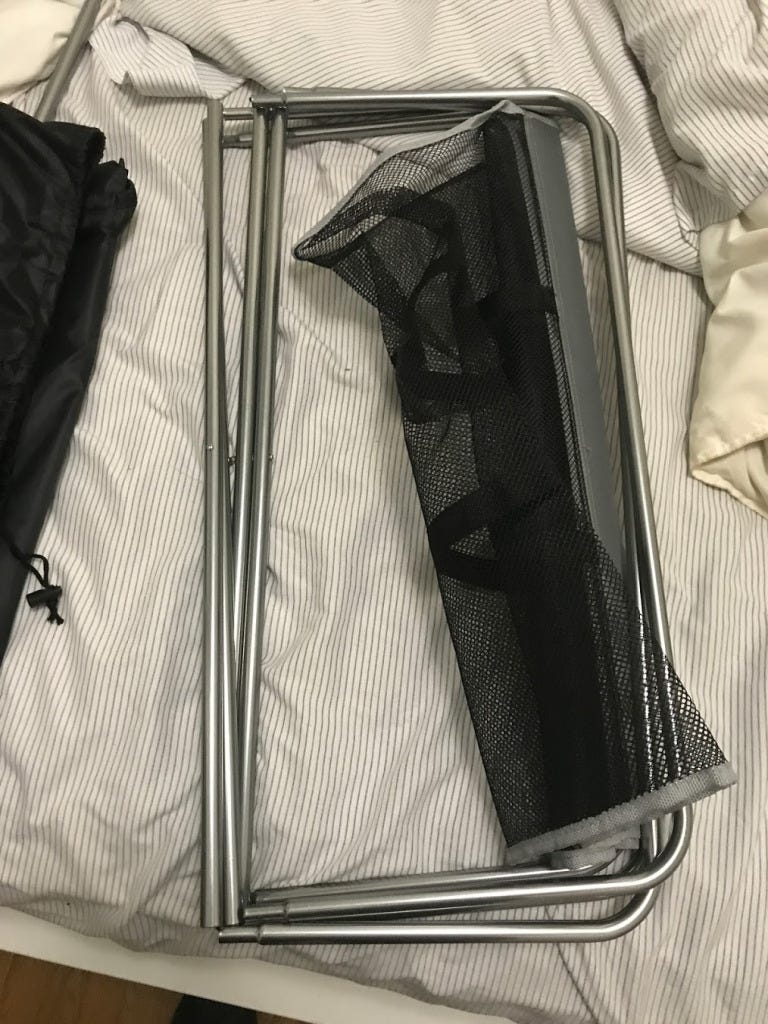 Now it was onto the bag, a critical portability component. Taking the same approach that worked for the legs, I searched for a backpack like component that could carry large items. It took a while but I found one online, mocked-up the folded table top, and started taping away.
The design worked decently enough and I decided to get it made by a manufacturer overseas. I found one on Alibaba and sent them my design I sketched up in a PDF editor. Turned out they thought the wooden table top I drew was another pocket, not quite what I had in mind but after testing it out I realized it worked pretty well and was less confusing than the straps.
I simplified the design by making 2 pockets instead of 3 and got another sample made. This one worked great and I took the bag on its first flight.
In the meantime, my good friend Troy Taylor, made a kickass logo and the Diewood tree was born. The table worked! It could go on airplanes and you could play a real game of beer die on it. I had many friends help test it out and they liked it. It was good, but not great.
The table wasn't too sturdy, if you leaned on it too much it would fall over. My goal the entire time with creating the table was to make a great product and I simply wasn't there yet. I sat on the design for a bit, contemplating just pressing go on the order with my manufacturers but I knew I could make it better. Then, one morning in June of 2019, I woke up and had it. I knew what I had to do with the legs and soon found another manufacturer who produced some samples for exactly what I needed. During that same time I found a manufacturer for the table top and had what I thought was the final leg and table design.
I tested this out thoroughly with friends and everyone noticed the dramatic improvement. This was it. I decided to make a 4' wide version as well that was not quite as portable but appealed to the wider beer die audience. This was a hit too.
With a couple modifications to the bags, I was there.
The Tournament Beer Die Table and Backpacker Beer Die Table designs are now complete and ready for production. In the coming months I'll be traveling to China to see the tables get built and soon enough they'll be ready for sale.